Shawna has a passion for helping women in all stages of motherhood from prenatal to postpartum and beyond. She graduated from Massage Therapy School at PCI in 2006. After doing standard Swedish massage for several years, she noticed there was a lack of quality prenatal massage in the Kansas City area. While pregnant with her son in 2014, Shawna had her first experience receiving a basic Swedish prenatal massage. Like many new mothers, she struggled with "common pregnancy discomforts" such as Pubic
Symphysis and Sciatic pain. Finding no relief in the bodywork she received, she decided to study various pregnancy massage techniques to create – truly therapeutic pregnancy massage sessions that would help alleviate the unique discomforts that come along with pregnancy. This specialty allowed her to formally give "birth" in 2017 to Mama Bear Massage, LLC. With the goal to create more effective therapeutic sessions with the ability for Mom to lay face down and have as normal of a session as possible throughout her pregnancy. Since its creation, Mama Bear Massage has evolved from a Prenatal Massage focus to more of a Medical Massage focus. As time went on Pregnancy Massage clients became Postpartum and then Therapeutic Massage clients.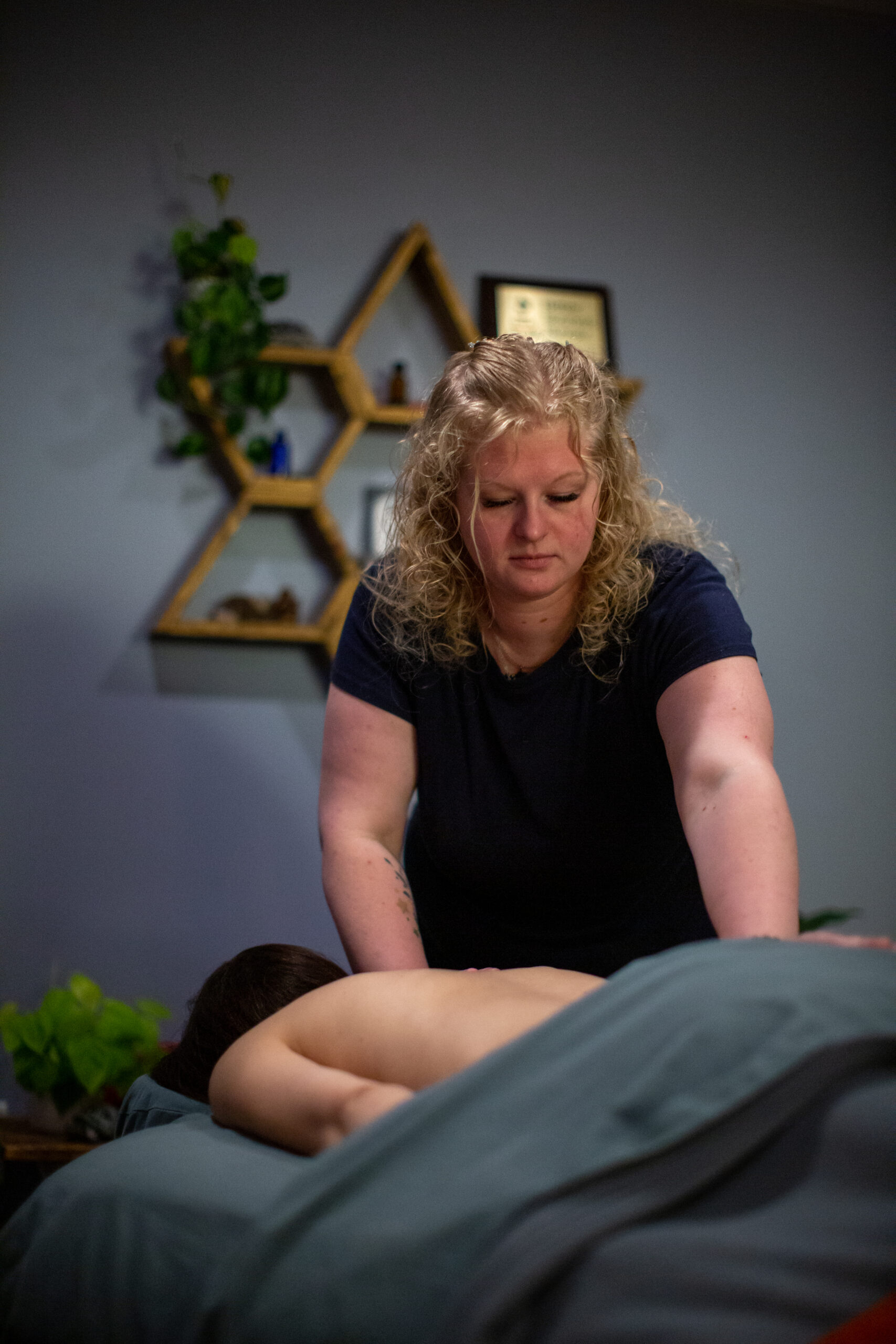 I opened Mama Bear Massage in 2017 with the desire to empower new Moms to take control of their pregnancy journey, by taking back the joy of being pregnant. I believed that there had to be a way to get quality body work while pregnant and I was determined to provide that. Here you CAN lay face down at any stage of pregnancy. Over time I began having clients that were seeking competent massage therapy that also included emotional healing and assistance in impro
ving their quality of life.
What Our Clients are Saying:
I've been seeing Shawna for massage therapy for several months, and she's TOPS! I have quite a bit of fascial tightness, which she was able to diagnose and focus her therapy on. She's a knowledgeable professional who does her utmost to tailor her interventions to the specific needs of her clients. She's patient and takes…
Shawna is fantastic, she has been doing myofascial work and it has been doing wonders! Very professional, knowledgeable and caring!
Shawna is MAGIC! I spent 10 minutes in her chair for a shoulder massage at Bulk It and felt a MILLION times better. She used techniques to help stretch out everything and it was so effective. I'll definitely be back for a longer massage ASAP!
That was the BEST MASSAGE I have ever had!! It was worth every penny ! I feel so good and felt like it was so consistent and just the right amount of pressure. Would highly recommend to anyone!!!
Shawna's touch is nurturing and healing. She also sometimes has shared a pearl of wisdom when I've mentioned a relational challenge I've been working with! Bonus to the fabulous session.
Shawna is much more than a massage therapist – she is a healer. A few words that describe her: compassionate, intuitive, inspired, kind, and talented to name a few. Not only is she a fantastic massage therapist, she is a wonderful person. Anyone who crosses paths with Shawna, whether it is because she is giving…